PANELS
Q CELLS Q.PEAK DUO 325W
The Q.PEAK DUO-G5 embeds Q CELLS' latest innovative technology, Q.ANTUM DUO, which allows more power generation per square meter. This was achieved by combining the technology of Q.ANTUM cells with new wiring and cell design, resulting in optimal efficiency regardless of weather conditions.
Jinko 270W & 275W
The Jinko Eagle Series is the first PID-free module in the world. It can be used for all applications; however, it's especially ideal for installations in Australia because of its performance in high temperature. World's first double 85 certified PID-free module ensures highest reliability under all extreme conditions. This Panel sets a new…
LG NeON R 350W, 360W & 365 Solar Panel
While most 60-cell solar panels on the market generate 260W of electricity, the LG NeON R produces a massive 360W…
WINAICO Panels
Winaico manufactures very high quality panels that impress worldwide. Recently awarded the TOP BRAND PV panel of choice in Germany from the prestigious EuPD Research Institute, it demonstrates that Winaico stands tall amongst its competitors even in the discerning European market. There is good reason for this. Winaico exceeds all six IEC standards by a huge margin.
With Winaico's super high yielding solar panel systems you'll have peace of mind with their 15 year product warranty, that's 50% more warranty than most competitors. Not only that, Winaico also offer 25 year performance guarantee & 2 years full system insurance which can be extended to 7 years, no other manufacturer offer this level of protection. 
Climatecare Electrical & Solar are proud to be exclusive Approved Retailers & Authorised Installers of the Winaico range.
SunPower
Compared to other technologies, SunPower converts the greatest percentage of sunlight into electricity. SunPower® E-Series solar panel is a back-wired panel, meaning all the bus bars and capture wires are on the back of the cell, which gives SunPower unequaled efficiency.
This means that over the lifetime of your system, you'll generate more electricity and save more money on your electricity bills. Having a very high efficiency means that they also have a smaller footprint than other panels with larger wattages in smaller panels. The backwired design also makes Sunpower a very attractive panel.
SunPower panels have  the industry's best warranty at 25years, thats product warranty as well as power guarantee. If you are installing solar on your forever home, choosing the highest quality panel will reward you in the long run.
Trina DUOMAX
For the image conscious buyer, its hard to go past the Trina Duomax. Duomax panels utilise an innovative double glass design that results in a super thin panel only 5mm thick which gives a very clean and tidy finish. Duomax doesnt suffer from leakages and any erosion that can occur as a result of metal parts. The panel is incredibly resilient against moisture, material ageing and has a faster heat dissipation rate thus making it the perfect panel to perform in climates of hot temperature and high humidity.
Enhanced Safety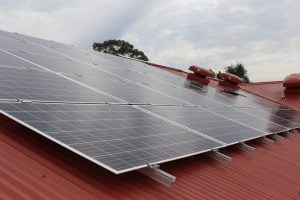 No back sheet dramatically decreases flammability
No exposed metal
Fire Type 13
More Durability & Reliability
Resistance to high wind loads, micro-cracking and degradation from sand, salt mist, ammonia and alkaline
Two sheets of heat-strengthened glass with AR coated top glass
Anti-PID
Better Looks
Glass/ Glass frameless design produces a very slimline panel only 5mm thick. Ideal for arrays mounted in highly visible areas.
Talesun Panels
When you want a cost effective, panel with good performance, Talesun is the panel for you. Approved by multiple international module standard regulators such as VDE, TUV and C-UL US, Talesun has proven its product reliability and durability on a global basis. Talesun offers quality at an extremely competitive price to performance ratio.
Talesun Panels come with the standard 10 year product warranty and 25year
performance guarantee that ensures that each panel produces at least 90% of its rated output after 25 years.
Talesun is available in both Mono and Polycrystalline with silver and black frames.
The Hi-Pro+ range also feature PERC technology which boosts efficency, a feature commonly found in premium panels.
All Talesun modules have been tested and certified by TUV for ammonia resistance and salt mist corrosion.
Climatecare Electrical are exclusive distributors of Talesun panels
REC Twin Peak 2
REC have changed the game with their innovative Split cell technology in the Twin Peak series of panels. They provide you with more power output for every square meter of panels installed, compared to standard 60-cell panels on a multicrystalline (poly) platform. The REC TwinPeak 2 Series delivers at least 20 Wp more per panel.
Panels with REC TwinPeak technology enables them to generate electricity even when they are partially shaded. Over time, you get a higher yield from your installation.